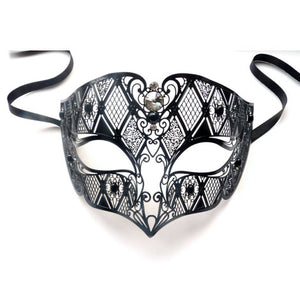 Smoking Filigree Mask
Authentic Venetian mask, satin ribbon tied and decorated with an intricate metal filigree design & rich Swarovski® crystals. Available in black finish.
Width 15.50 cm
Height 9.50 cm
Length 12 cm
Handmade of allergy free materials, coated in acrylic and finished laterally with double-edged black or white satin at La Fucina dei Miracoli in Italy. Each mask is accompanied with a certificate of guarantee.